ABOUT THE COMPANY
Eden's Baby
is all about nurturing family and doing what is best for our children. Started by a woman looking to connect with her daughter,daughter in law and grandchildren Eden's Baby has grown to be a family of it's own with all their customers. They have a vision to enable mothers to find environmentally friendly products, support and information, all in one place so that parents can make the best informed purchase for their children.
They are committed to the mission, and you can tell by the amazing products they have to offer. You can find
cloth diapers,
baby carriers
,
toys
, and natural
bath and body
products to name a few! They carry cloth diaper brands such as Thirsties, Bummis, BumGenius, and Fuzzibunz. Since we like to kick it old school, we reviewed a
Thirsties Duo Wrap
and a NEW
Thirsties Duo Hemp prefold.
THIRSTIES DUO WRAP AND HEMP PREFOLD
TYPE
- Wrap is a 2 size cover system. Size 1 is for babies 6-18 lbs, and size 2 is geared towards 18-40 lbs. A 2 size diapering systems fit babies better than one size because of the larger range of rise adjustments. PREFOLD- an absorbent 2 layer piece of cloth, that is also available in the 2 sizes.
CLOSURE
- The cover is available in snaps or velcro. The prefold will need pins, or can be trifolded in this cover!
MATERIALS
- Duo cover is a thin cover made from PUL. Duo prefold is made from 2 layers hemp jersey for an amazingly thin yet super absorbent prefold.
UNIQUE FEATURES
- The Duo hemp prefold is naturally antimicrobial, and is very thin without compromising absorbing power.
PRICE
- You can purchase a Duo Wrap for $13.95, and the Hemp prefold for $7.00.
OUR REVIEW
TRIM, TRIM, TRIM! Both the Duo wrap and the Duo prefold are the thinnest on the market, yet have NEVER given me a leak. Not in the morning, not at night, not after 6 hours(Don't ask!)! I am a huge fan of 2 size diapering systems, like the
Thirsties Duo Diaper
and this cover is exactly like those! See how trim this is around her legs! The huge range of adjustability means a perfect fit on any size baby. No bulkiness on a newborn, and no more ummmm..... butt showing on toddlers. I know you know what I mean!
I was a bit surprised at how thin the prefold was when it arrived, but it does not affect it's abilities to absorb a night time worth of pee at all! Being that it is made from hemp jersey, it is naturally antimicrobial and washes out very clean! The thinness helps it dry very fast, so it skips that crunchy phase that most prefolds get after line drying too long.
Hemp products do need to be prepped first by simply washing 3 times, this will wash away the natural oils and increase absorbency. Check out
my post
on prefolds, if you would like more information on how to use them. Here is a chart to show you how to use the Thirsties Duo Hemp prefold.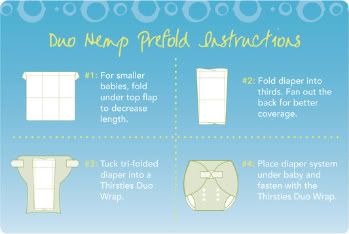 BUY IT
- You can purchase the Thirsties Duo Wrap and Duo hemp prefold at
Eden's Baby Online!
WIN IT
- Eden's Baby has very generously offered to give one reader a Thirsties Duo Wrap and Duo hemp prefold! They are also going to give a second reader a $10 gift certificate towards any purchase in their store!


MANDATORY ENTRY
Become a fan of Eden's Baby on
Facebook
and let them know I sent you!

You must be a Home Grown Families Google Follower to participate.
EXTRA ENTRIES
Must include email address if not listed in profile. Each entry must be a separate comment.
Visit Eden's Baby and tell me a few products you would like to try! 1 entry

Follow Eden's Baby on Twitter! 1 entry
Become a fan of Home Grown Families on Facebook- 1 entry
Become a follower of Home Grown Families on Twitter- 1 entry
Tweet about this giveaway for 1 entry per day! Must leave permalink and include Home Grown Families in tweet.
Email this giveaway to a friend, and CC it to momtosprouts at yahoo. 1 entry

Subscribe to Home Grown Families via Feedburner in the upper left corner- 1 entry
Add my button to your blog, and provide a URL.- 3 entries
Blog about this Giveaway on your blog and provide post URL- 2 entries
Enter any of my other giveaways and let me know which one you entered- 1 entry per giveaway.
Vote for Home Grown Families on Top Mommy Blogs( link on the left)- 1 entry for vote
Grab my Cover The Booty event button! 3 entries

Good luck everyone! U.S only!!! - Giveaway will run until July 1st! I will use random generator to pick a winner and will email the winner and announce it here on the blog. The winner will have 48 hours to respond, or a new winner will be announced.
DISCLAIMER: I was not paid for this post. I was given a product to review, and I have provided my own honest opinion. Thank you, Eden's Baby for allowing us to review your products and for the awesome giveaway. You can view our PR policies
here.