I know you don't know this yet, but, I am an activist. I am always finding something to attach myself to. My overall biggest life goal is to achieve equality for women in education, work and mainstream media. (see
Know Love, Know Peace
- my post on women.) Big task.
Somewhere in the middle of research for something-or-other I was doing I came across
WE ADD UP
and instantly fell in love.
WE ADD UP
is one stop shopping for a way to display your passion- pretty much whatever it may be!
Mother and Daughter team (women!!)
Jill and Judy
founded WE ADD UP after they felt concerned about global warming. I understand this can be a touchy subject but we're not here to discuss global warming. We're here to discuss- bum, bum, bum- BREAST FEEDING! Always a fun time at Home Grown Families!! (See
Nursing in Public
and
Nursing in Public- Update
if you missed out) However, this is an issue we feel strongly about and we are committed to supporting and educating Mothers who choose to make this commitment; and so is WE ADD UP with their sales of pro-breast tee-shirts and other gear.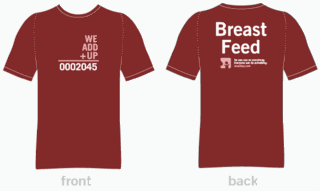 WE ADD UP loves the planet- in many different ways! One thing I am SO impressed with is their use of organic shirts! So, not only are you a walking billboard for your cause, you are walking with no chemicals! YAY!
And, in our quest to bring you the BEST, WE ADD UP definitely measures up. They donate part of the profits from every tee sold to an organization that supports the cause. Double YAY!! The proceeds from the breast feeding tee go to
Best for Babes
who's website touts "The Miracle isn't the bra!" HA!! LOVE IT!!!
Each tee ordered from WE ADD UP contains a unique number- your number- for that campaign. For example, if you are the 2,876th person to buy a tee for breast feeding, your tee will have the number 2,876. I think that is so neat! It's like saying "I am NOT alone in my opinions- I have proof right here on my tee!"

I want to show you the little illustration on the back of the tee in closer detail.

Personally, we think it is cute! I know some people are not the type to wear drawings of boobies on their person but some people feel so strongly about the subject that they will. We understand this. We will not be publishing negative comments on this giveaway.
So, go over to
WE ADD UP
, check-it out, and find a reason to become an activist. Then, show your cause off!
BUY IT
- Buy a WE ADD UP
Breast Feed
tee shirt for $25. Don't forget, a portion of the sale will go to Best for Babes!
WIN IT
- WE ADD UP is giving one mama activist her very own
Breast Feed
tee! We're 'letting it hang' until 8/31!
MANDATORY ENTRY
Become a fan of WE ADD UP on
Facebook
and let them know we sent you!
You must be a Home Grown Families Google Follower to participate.
EXTRA ENTRIES
Must include email address if not listed in profile. Each entry must be a separate comment.
Stop by WE ADD UP and tell me what other tee-for-a-cause you like- 1 entry

Follow WE ADD UP on Twitter! 1 entry
Become a follower of WE ADD UPs blog- 1 entry
'Like' Best for Babes on Facebook and let them know we sent you- 1 entry
Become a fan of Home Grown Families on Facebook- 1 entry
Become a follower of Home Grown Families on Twitter- 1 entry
Tweet about this giveaway for 1 entry per day! Must leave permalink and include Home Grown Families in tweet.
Email this giveaway to a friend and CC it to momtosprouts at yahoo- 1 entry

Subscribe to Home Grown Families via Feedburner in the upper left corner- 1 entry
Add my button to your blog, and provide a URL- 3 entries
Blog about this Giveaway on your blog and provide post URL- 2 entries
Enter any of my other giveaways and let me know which one you entered- 1 entry per giveaway.
Vote for Home Grown Families on Top Mommy Blogs (link on the left)- 1 entry for vote
Good luck everyone! Open to U.S only! - Giveaway will run until August 31! If applicable, I will use random generator to pick a winner and will email the winner and announce it here on the blog. The winner will have 48 hours to respond or a new winner will be announced.
DISCLAIMER: I was not paid for this post. I was not given a product to review- I have provided my own honest opinion on an issue we care about. Thank you, WE ADD UP for allowing HGF to do an awesome giveaway. You can view our PR policies
here.