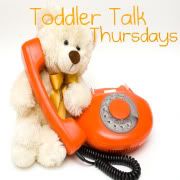 Crazy About My Baybah
is hosting a Toddler Talk Meme!! This is really neat and I'm so glad I fell across it!
This weeks topic is "Toddler Discipline."
Mugsy is 17 months today. She is very smart.
I have a very hard time with this issue. There are a few reasons:
1) I realize thinking that she is extra smart could be just me being a proud Mama
2) She could seem bright because the twins have such issues. They didn't do things on schedule but I didn't know they had problems then.
But, at the very least, she has bright tendencies.
So, when she does something that she KNOWS she shouldn't- or doesn't do something that I told her to do- do i discipline her?
She can put something back when you tell her "Put that back!" She can throw things in the trash. She can look for things. She hides and stays quiet while I'm trying to find her and calling her name. She calls her sisters by name. She says 'Please' and 'Thank you' appropriately. She says "Bless you" when someone sneezes. She tells me she has a 'big butt' and calls herself 'bad baby' (only ever said to her in a loving way [and funny voice]- I promise.) She kicks her foot out when I tell her "I'm gonna kick your butt!" and she says "I'll kick your butt." She DELIBERATELY does things that she knows she shouldn't be doing- just to bug you. And, I know its deliberate because I've seen her wait to do it until the person she was offending was watching her. Or, on the other side, I've seen her watch and wait until they weren't looking! She has been speaking in sentences since she was 15 months! She is absolutely amazing.
So, what am I to do when she WON'T do something I KNOW she can do?
The other day I told her to take a toy back to a child. I know she can do it! I've seen her do it! If I tell her "Go show PopPop your pretty dress!" she runs and finds him to show it off! She KNOWS!! But, she just kept throwing the toy. What do you do when you know it's just that she won't?
So, far from advice, I'm asking your opinion. Even though she is only 17 months, should she be disciplined? What's appropriate? She is VERY willful! Extra willful! If it's not something she doesn't want to do she will not do it. And, I know it's deliberate willfulness. No doubt in my mind. She is capable of SO much more then you would think a 17 year old can do!
So, what is a 30 year old to do?