HOP HOP AND HOP SOME MORE ............
ALL...........
IN............
ONE CLICK!!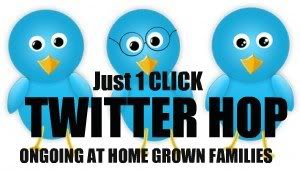 This new Twitter Hop is amazing- with just one click you can follow

everyone

on the list!! The quickest hop on the market :)

*Perhaps you don't want to follow everyone on the list, you can easily unclick their box on the list and it will not follow them

If you would like to be added to this ongoing hop, simply comment with your Twitter id- No other comments please. I already know your going to like it.......so your WELCOME!! (At this time there is no way to add yourself to the list, only I can. I hope they will add this feature soon).
I will repost this post every week on Saturday, so each week you can check in to see how many new people there are to follow! You will continue to get new followers each time someone new clicks the list, but you must come back each week to follow the new people!
You can find the new button on my sidebar!!
WANT TO START HOPPING? CLICK THE ICON BELOW!!
Don't forget the leave your Twitter ID in the comments below to get in on the fun!