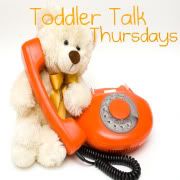 It's time for Toddler Talk Thursdays @ Crazy About My Baybah!

This week's topic is: Your Favorite Outdoor Activity.

No doubt about it, Mugsy loves walks. It's the only time she is quiet!! Even in the grocery store, as long as we are moving the cart she is fine but stop to look at something and she start taking stuff off the shelves, hitting her sisters, yelling at me, trying to stand up... If I start pushing her again she quiets down and sits there until I stop again.



This is a pic of Mugsy strapped in her Ergo (we're doing a hip carry) with her 'cool shades' on. The background is the concrete barrier that separates the walkers from the cars on the bridge that crosses the river into the next town. We were going to the library! We do this a lot in the summer. I can't wait until it's warm enough to do it again!