Their motto hits home for me.
My children are growing at speeds that make my heart sigh
, Oh how I wish they would stay small forever. I don't want them to grow up any faster than they already are- let children be children.
Nohi means "to be small" and "vivacious", and that is exactly what we are celebrating. Nohi kids offers eco-friendly lively clothing for children, clothing that keeps them children.
I immediately fell in love with the vibrant colors and amazing graphics. Not to mention the use of bamboo and organic cotton. I knew these would be perfect for my spunky 2 yr old. Finally clothing that matches her one of a kind personality.
We reviewed the organic Peacock dress in rich raspberry- accented by a bright turquiose sash and adorable water based peacock graphic. The organic cotton has bamboo and lycra making it super soft and stretchy! This little dress will be a perfect tee when she grows out of it!
My favorite part……she played in it. She smiled and jumped and it really showed off her playful spirit. She is my nohi baby!
She even did some crazy driving!
Nohi Kids has many other great eco-friendly kids clothes including cute tees and bodysuits for the summer! Check out these bright colors- almost as bright as the one who would be wearing it! Nohi Kids has tees for boys and girls!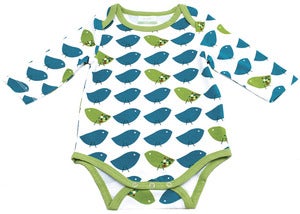 LOVE THEM??? Me too! Celebrate your vivacious little ones with Nohi!
BUY IT: Nohi Kids
Peacock dress
$39.50.Use code Homegrown25 to score 25% off!!
WIN IT:
Nohi is giving one lucky HGF reader the tee or bodysuit of their choice!

Tweet: #WIN an ORGANIC TEE OR BODYSUIT from @Nohikids & @momtosprouts #giveaway http://bit.ly/HkuUcS