Three Great reasons why you should use ASL with your baby:
1. It allows baby to communicate sooner than they can talk.
2. Research supports and encourages its use.
3. The ability to sign enhances learning and lessens frustrations.
I am a HUGE supporter of sign language, and highly reccomend it to new and expecting mothers. You can read more about our history here: Signing, more signing, and yet more signing🙂 Told you I loved it! I have picked up tons of books, DVD's and programs- there is a lot out there. I wanted to point out a few resources and products that we have loved and have worked!!
A huge online resource that offers FREE printables. They have a great dictionary for quick reference, flash cards with kid friendly pictures, and a wall chart. One of the best ways for baby to get to know more signs is if mommy does too! Print them out and plaster the house with them. Label every day objects with picture flash cards!
2- The Baby Signing Book by Sara Bingham about $16.00 on Amazon. Great book for the facts about baby signing. All research included.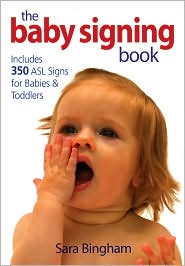 This is a complete reference book for baby signing. Complete with over 350 ASL signs for babies and toddlers. It has ages breakdown of language developement so you know what to expect when. The great dictionary in the back has clear pictures and allows you to write that date the sign was introduced and when it was repeated by baby. I have used many of the signing sings and games included in the book as well with my older children. Also included is a very extensive list of resources for signing with your baby.
3. DVD's

We use 2 companies in our home, Weehands ($19.99) and Signing Time( $21.99 each). Both companies also have other great products but we have not tried out any of them personally. I know our local library carries Signing Time and we frequently pick them up there. My 3 and 5 yr olds will sit through an entire Sign Time DVD. Weehands is more baby focused and Lil is a huge fan!
4. Classes
Check your local library for baby signing classes. Our city recreation center offered them when Fast Eddy was a baby. You can also check out classes from Weehands, Baby Signs, and Sign 2 Me. Surronding yourself with other moms trying to sign too will broaden both you and your baby's signing vocabulary.
5. Complete Kits:
The first signing thing I bought with the Sign with your Baby complete kit for $44.95. It had everything I needed to get me started with signing. even after 5 years I still use it as a reference. The laminated reference guide is my fav!!
6. Fun Stuff for baby to play with:

When we first started out I met a amazing woman that taught classes through BabySigns. I found her at a baby expo in our town and fell in love with their products! We own quite a few of their fun learning products and Carrot Top reaches for them often!
They have super durable flash cards on thick cardboard and fun little books for babies!
Pray about it and talk with your friends. Baby signing has brought so much fun and an opportunity to connect with my children in an engaging way.